Typhoon Lagoon Water Park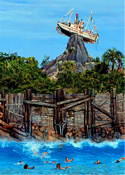 Just recently Victim to a massive tsunami Typhoon Lagoon is a shipwrecked cove filled with an infinite amount of entertainment with a discovery around every corner. Home to an abundance of water slides, rip tides and food on the side you will be in the constant heat of the moment!
Typhoon Lagoon is Disney's perfect addition for those hot summer days. Florida's climate tends to defy common ground with relentless heat, making a day in the water the perfect getaway for the entire family. Swim in the worlds largest wave-pools or lay on the beach and soak up the sun, tube or slide down steep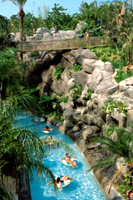 waterslides through rockslides and hillsides. Visit hidden reefs and swim with marine wildlife including sharks and sting rays! Typhoon Lagoons icon is the large fishing boat known as the "Miss Tilly" impaled upon a massive mountain located at the basin of the large wave-pool. So come join the crew down at Typhoon lagoon the most visited water park in the world!
Typhoon Lagoon One Day Tickets
Typhoon Lagoon Tickets in a PLUS Pass
Typhoon Lagoon Tickets in a Premium Pass
One day Typhoon Lagoon Tickets
One Day tickets to Typhoon Lagoon may only be purchased from Disney themselves. They do not make one day tickets available to brokers. You can include Typhoon Lagoon in a Magic Your Way Ticket.
Magic Your Way PLUS with Typhoon Lagoon Tickets
Magic Your Way tickets are available with a PLUS feature. The PLUS feature allows you to visit:
Disney's Oak Trail Golf

Blizzard Beach

Typhoon Lagoon

Wide World of Sports

Disney Quest
As well as the theme parks. The length of your ticket determines how many PLUS choices you get. You can use the PLUS choices exactly as you like, You could use each one at a different attraction (from the above list) or you could go to Typhoon Lagoon every time if you wanted to.
Buy Typhoon Lagoon Tickets in a PLUS Pass
Magic Your Way PREMIUM with Typhoon Lagoon Tickets
Magic Your Way Premium tickets also contain Typhoon Lagoon.
Click here to read more about Magic Your Way Tickets.
Buy Typhoon Lagoon Tickets in a PREMIUM Pass
Our Magic Your Way tickets are discounted. Disney World gives discounts to brokers who buy tickets in large numbers. We are able to pass the savings on to you. Buy our Typhoon Lagoon tickets with confidence.