Boggy Creek Airboat Rides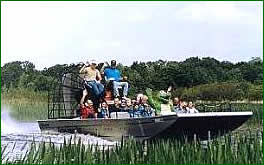 Boggy Creek Airboat Rides are a uniquely Floridian experience!
Imagine gliding through the wetlands viewing Florida's Native wildlife. Starting with a leisurely idle down our natural canal, looking for exotic birds, turtles and the Florida alligator. Imagine flying like the wind into the swamps experiencing the awesome feel of the airboat ride traveling in speeds up to 45 miles per hour.
Imagine this unforgettable journey right here in the Orlando attraction area at Boggy Creek Airboat Rides because we are "The Central Florida Everglades" If you are looking for a real vacation pleasure, then Boggy Creek Airboat Rides is your Central Florida destination.
Here you will be taken to the remote areas of the lake, with an experienced guide you can find all the hotspots for Central Florida's most hidden wildlife. Get up close and personal with real wild alligators and see them in their natural habitat. With the large and high rimmed boat you will be safe and sound in this perfect way to spend a Florida day!
Purchase Boggy Creek Airboat Rides Tickets Here!